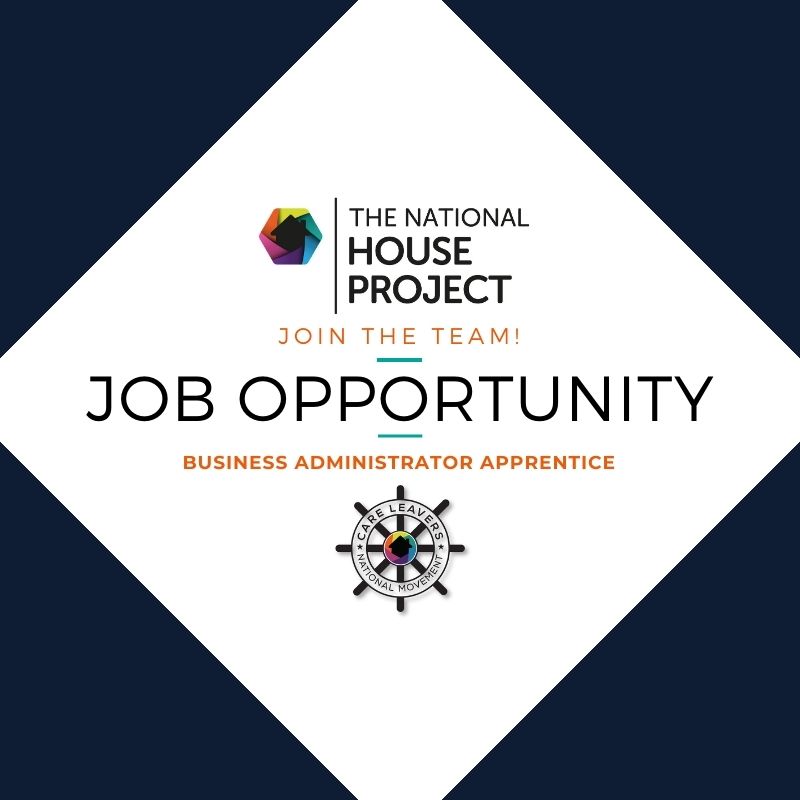 Exciting Job Opportunity: We are looking for a Business Administrator Apprentice
Posted 28th August 2020
This vacancy is reserved for people who have experienced being in care.
Do you have a desire to make a difference to the lives of young people in, and leaving care? The National House Project Charity is looking to recruit an apprentice to join their growing team, to provide business administrative support and enrich the charity's understanding of the care experience journey.
Weekly wage: £238.65
Working week: Monday – Friday (occasional weekend work) 37 hours
Location: Crewe (onsite college assessments/reviews)
Business Administration level 3 – advanced level apprenticeship
Apprenticeship duration: 18 months
Possible Start Date: 05/10/2020
Apprenticeship Summary
Learning and promoting the Charity's vision and mission.
General admin incl. emails, filing, printing, scanning, ordering stationary
Assist with the management of staff travel and expenses.
Manage, maintain and review IT systems and assist with minor technical support.
Assist with the management of social media, marketing and campaigns.
Input data and update records.
Assist with a range for research activities.
Schedule appointments and events, support and participate in meetings and training events.
Communicate and interact with contacts either on the phone, digital platforms or in person.
Build and maintain positive relationships with customers and colleagues.
Do any additional typing that may be required, including notes of meetings.
Practice planning and + supporting with deadlines.
To maintain confidentiality and discretion at all times.
Undertaking training when necessary.
Work on allocated projects as required.
Being ready for any other administrative tasks that are required.
You will be based at the National House Project office in Crewe, however you will have opportunities to travel to Local House Projects and attend meetings across the country.
Skills Required
Effective communication and listening skills
Ability to work in a team and use own initiative
The ability to form constructive working relationships with colleagues and communicate with a range of audiences
Good organisational skills to be able to prioritise work and meet deadlines
Computer literate in Microsoft Office
Demonstrate good attention to detail
Personal Qualities
Commitment to completing the apprenticeship and obtaining a foral qualification
Flexible, enjoy communicating at different levels
Good sense of humour
Good attitude towards work
Team player
Ability to maintain confidentiality
Applications via BMet (although the Apprenticeship is through Birmingham College there is no expectation for you to attend the location as assessments/reviews will be done online/in the office)
Click Here To Apply
The post Exciting Job Opportunity: We are looking for a Business Administrator Apprentice appeared first on The National House Project.
Latest News
News Categories
Recent News