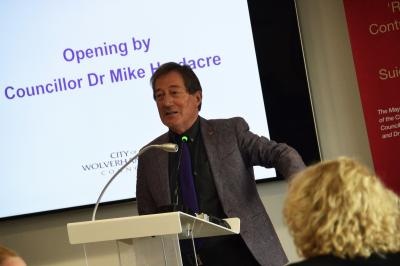 House Project launched during Care Leavers Week
Posted 31st October 2019
The Wolverhampton House Project is designed to help care leavers through one of the most difficult periods in their young lives.
The scheme – a partnership between the City of Wolverhampton Council, The National House Project and commercial partner Reconomy – will see 10 young people aged 16 and over given an empty Wolverhampton Homes property which they can refurbish and then move into. They will be able to continue living in it for as long as they choose – forever if that's what they want to do.
Links will also be made with local building companies and training providers to give them the skills they need to make any improvements required to what will become their home.
Councillor John Reynolds, the City of Wolverhampton Council's Cabinet Member for Children's Services, said: "Living alone for the first time is daunting for any of us, but particularly so for a care leaver who will do this at a much earlier age than most young people and who would not have the support of family members, either. As a result, some young people stay in care for longer than they either need or want to.
"The Wolverhampton House Project will enable young people to move into their own home while getting support to develop the practical and emotional skills that they need to live independently and to make their house a home."
Councillor Dr Michael Hardacre, Cabinet Member for Education and Skills, opened the launch event at the Civic Centre and said: "We are delighted to be launching this important initiative during National Care Leavers Week, and we are looking forward to the first young care leaver moving into their own home through The Wolverhampton House Project sometime next year."
Reconomy Chief Executive Paul Cox said: "As someone that grew up in Wolverhampton, I care passionately about this project and it is fantastic to celebrate its official launch.
"The Wolverhampton House Project has captured the imaginations of everyone involved with it and we all strongly believe it has the potential to be transformational for Wolverhampton's young people in care. Reconomy is proud to be the commercial partner of this project and we look forward to getting started."
National House Project Director Sue Hammersley said: "We are feeling so positive about working with Wolverhampton – its systems, processes and staff are all completely focused on outcomes for young people; here's to a great partnership."
The Wolverhampton House Project, one of eight such schemes around the country, will complement and enhance the already successful supported housing accommodation currently available to care leavers in Wolverhampton.
For more information visit The House Project.
Other activities during National Care Leavers Week (24 to 30 October) included the launch of the Grandmentors programme, a new mentoring project to support young care leavers in Wolverhampton, a fun day at WV Active Bilston-Bert Williams and a meal out for care leavers and their Young Persons Advisors, as well as attendance at the National Leaving Care Benchmarking Forum in London and the regional Children in Care Leavers Council in West Bromwich.
National Care Leavers Week seeks to highlight the needs of care leavers, and encourage the agencies responsible for looking after them to work in a coordinated and effective way.
The City of Wolverhampton Council's Local Offer for care leavers aged between 16 and 25 provides information about a wide range of services which could help them prepare for adult life. The Local Offer was developed in partnership with care leavers and includes details of support which they are entitled to by law, as well as additional services that the council has been able to secure with the help of partner organisations. For more information, please visit Care Leavers Offer.
Latest News
News Categories
Recent News